Product Features
The test must be at room temperature 59-86ºF (15-30ºC)
1. Open the sealed pouch by tearing along the notch. Remove the test discard from the pouch.
2. Hold one side of the discard with one hand. Use the other hand to pull out the cap and expose the absorbent end.
3. Immerse the absorbent end into the urine sample for about 10 seconds. Make sure that the urine level is not above the line
printed on the front of the device.
4. Lay the discard flat on a clean, dry, non-absorbent surface.
5. Read the results at 5 minutes. The drug test results remain stable for up to thirty minutes. See the illustration.

Product Parameters
Model Number: COT -Cassette Power Source: Manual
Warranty:2 years Material: plastic, Gold
After-sale Service: Online technical support, Return, and Replacement
Shelf Life:2 years Quality Certification: SGS
Instrument classification: Class II Safety standard: EN 149 -2001+A1-2009
Specimen: Urine Accuracy:99%
Format: Strip Cassette Dip card Certificate: CE, ISO
Shelf time:24 months Packing::One test per pouch
Application: Test Cotinine Usage: Professional Testing
Function: Early Diagnosis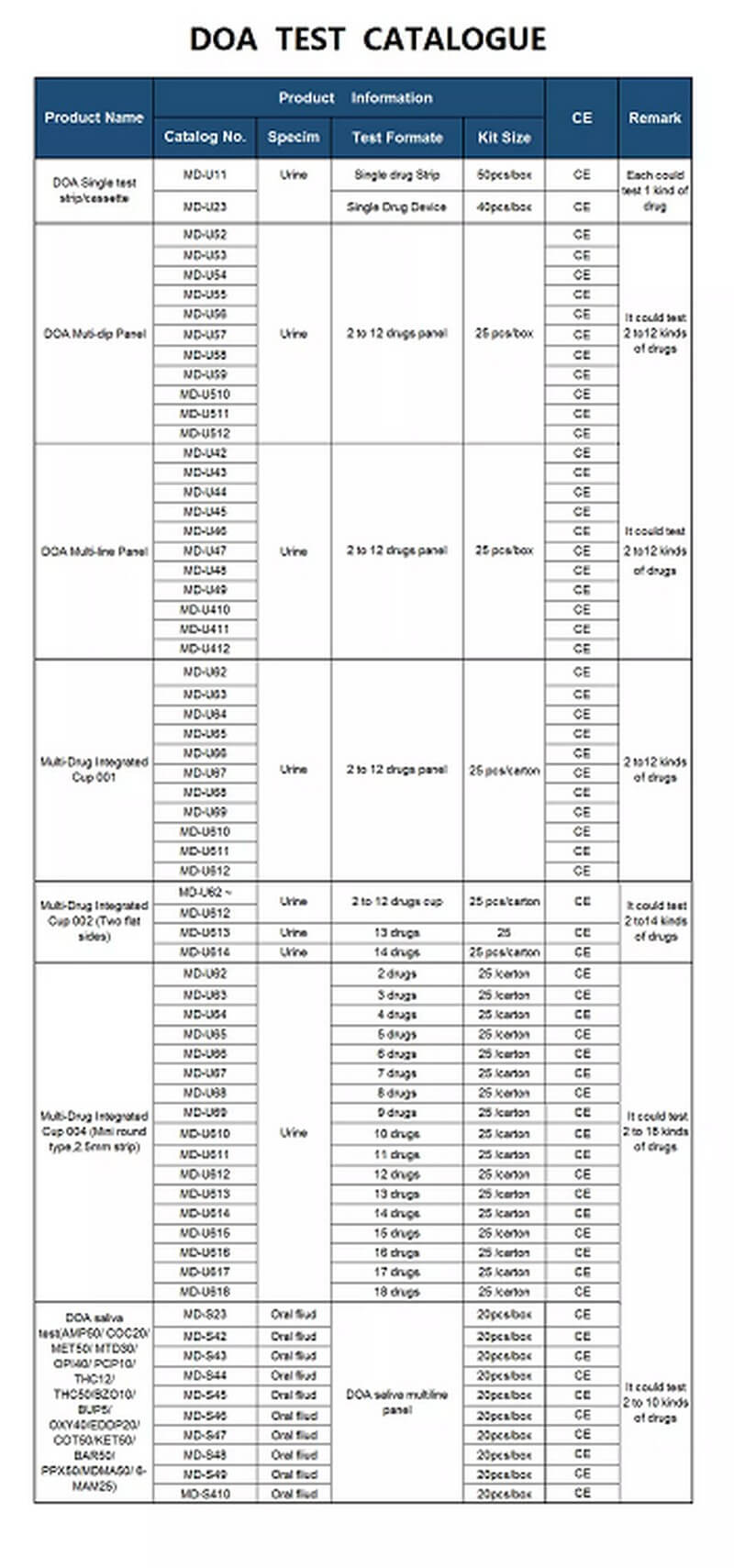 Application and After-Sales Service
Special parameters (15 pieces) for drug test:
TML(Tramadol)/K2(spice,SyntheticCannabis,)/MQL(Mandrex(Methaqualone)/EDDP(Ethylenediamine-dimethylphosphinic)/FYL(Fentanyl)/ACE(Acetaminophen);/Clonazepam(CLO)/TobaccoCotinine Nicotine(COT)/Diazepam(DIA)/Ethyl Glucuronide(ETG)/6-Monoacetylmorphine (6-MAM)/Tenamfetamine (MDA)/ Methylenedioxypyrovalerone(MDPV)/ Methaqualone (MQL)
1 Read the enclosed instruction manual completely.
2 Do not open the sealed test pouch until just before sample testing.
3 Collect a fresh urine sample in a clean container preferably glass.
4 Check the expiration date and remove the test device from the sealed pouch. Do not use the test past its expiration date.
5 Remove the protective cap from the test device to expose the absorbent wicks.
6 Immerse the wicks into the sample, making sure that the urine level does not come in contact with the test device.
7 Observe sample lateral flow or migration across the test panels (15-20 seconds). Read results within 5 to 8 minutes after sample migration. Do not read the result after 8 minutes. If the drug test is left standing for longer than 8 minutes, the intensity of the colored lines may change or for technical reasons, a faint line may appear that should not be interpreted.